PUBLICATIONS.
I currently have two radio related publications available. Please feel free to contact me concerning either of them.
NEW COMPLETLY REVISED & UPDATED EDITION AVAILABLE FROM 1st FEBRUARY 2016
NON DIRECTIONAL BEACONS OF EUROPE ( ARCTIC TO NORTH AFRICA )
2016/17 - EDITION

PDF version via email may be ordered .
VERSIONS AVAILABLE: PRINTED BOOK OR PDF. (THE PDF FILE IS FOR USE WITH ADOBE ACROBAT READER V3.0 OR ABOVE)
THE PDF VERSION CAN BE E-MAILED FOR FASTER DELIVERY AND A SAVING ON POSTAL CHARGES
IMPORTANT: PLEASE STATE WHICH VERSION YOU REQUIRE WHE ORDERING.
This contains details of frequencies, callsigns, locations and co-ordinates of over 3600 aero and marine NDBs and is an ideal quick reference source for decoding beacon callsigns very quickly. Coverage area is from Greenland and East Coast Canada to Arctic Russia, to 70 degrees East, to 10 degrees North in North Africa, including the Azores. It contains a general information section, FAQ, Aero NDBs in alphabetical order, Marine NDBs in alphabetical order, reverse frequency listing, and list of DPGS correction stations and Navtex and DSC stations within the coverage area.
The PDF version contains extra information in the form of NDBs by Country and Off-shore NDB list.
Printed Version: £17.50 inc UK post & packing or €25 (Euros) inc Airmail postage for EEC EUROPE or $35 (US DOLLARS) FOR NON EEC / USA.
The PDF version via e-mail £10 UK; €15 EEC Europe or $20 USA. PDF version on CD-ROM by post £12 UK, €20 Europe, or $25 ROW
Please see below for ordering details.
COVERAGE AREA

---
STUDY CONCERNING THE WEATHER EFFECTS ON LOW FREQUENCY SKYWAVE PROPAGATION
PRINTED VERSION OR PDF FILE AVAILABLE.
This details the background and study which I carried out from July 1996 till January 1997; along with my conclusions. This has now been updated to a final 2007 version and includes information on how to produce your own DX forecasts. 27A4 pages. UK price including p&p £7. EEC Europe £12 or €15 inc airmail. USA 25 US Dollars inc air mail. PDF version via email £5 for UK, €7 (Euros) for Europe or $12 (US Dollars) for USA.
---
Ordering and Payment details:
I can accept payments made using UK sterling cheques drawn on a UK bank account, UK postal orders, Euros / US Dollars (notes only), cash (via registered post only).
I can now also accept payment by PayPal to robert at kilkeel dot org dot uk. To use PayPal please click on the image below.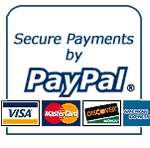 Cheques (UK ONLY) should be made payable to: R. A. CONNOLLY
Cash should be posted using registered mail.
Orders should be sent to:
R. A. CONNOLLY GI7IVX;
21, ELEASTAN PARK;
KILKEEL;
CO. DOWN;
NORTHERN IRELAND;
BT34 4DA
Orders usually despatched within ten days of receipt and receipt of orders acknowledged via e-mail if available.
---
NAVIGATION
About me 8 About Kilkeel 8 Beacons rx'd 8 Example NDB 8 NDBs Ireland 8 Publications 8 Radio Hobby 8 Update8 US DX page 8 Wx Charts 8 Related Sites 8 Index